Are you a first-time homeowner wondering how to start decorating your new place?
You've come to the right place! We're here to share a few tips on how to turn a new house into your personal space!
Learning how to decorate a new house is both exciting and nerve-wracking on your first attempt, so every bit of help counts. You'll find our tips useful if you know little about interior design!
By the end of this list, we're hoping that you'll have a fair number of design ideas and are ready to start decorating!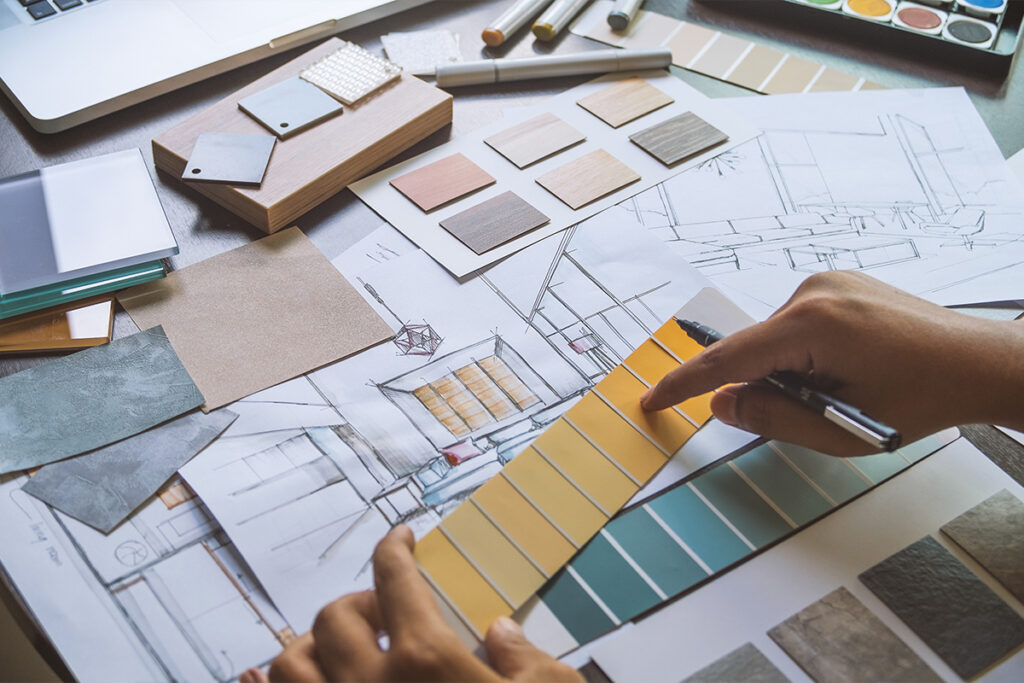 1. Make a plan
The first consideration when decorating a home is whether to ask for help from an interior designer or do all the work by yourself. 
Whatever your move is, there should be a plan and a budget in place to help you get started.
Start the plan by making a list of essentials that your space needs and also the ones you can live without. Take your time while doing this! Otherwise, you might forget to list down a few important things. 
After that, establish a budget that you're comfortable with and what you'll do if you go over it. Trust us, there's a huge chance you'll go above your budget, but that's normal!
The danger with home decorating as a first-timer is that it's easy to get carried away with all the gorgeous furniture and decors. Yes, you need a bunch of things when decorating a home, but you don't need them all at once!
You can get the rest a few months after settling down or once you have enough money for them. Without a solid plan and a detailed budget, you'll find yourself ordering things you don't need, or worse, your funds drained sooner than expected.
2. Figure out your style
Think about what you want your home to look like, or of things that make you feel at home. 
Do you want a contemporary home with sophisticated interior decors? Or would you rather have a quiet, minimalist home with minimal furniture to maximise the space?
Your style choices and inspirations are endless when decorating, but creating your idea of "home" is a great place to start. 
If you're struggling to find your preferred style, we'd recommend browsing on Pinterest! You'll gain lots of interior design inspiration from the mood boards there, for sure. 
3. Choose your paint wisely
There's no other interior design tool that can transform your space more than a fresh coat of paint! 
We know it's quite intimidating finding the perfect shade and colour of paint considering there are thousands of choices, so think hard and take your time.
It can help to consider the vibe you want to achieve for each room. Do you want your living room to be quiet or bold?
Neutral tones like grey or off-white can be quite calming to look at, while bright colours like yellow emanate vibrant and lively energy. 
Another tip: do the painting before moving in. It's easier to paint walls and ceilings when there are no furniture and boxes in your way.
4. Consider the lighting
Lighting is one of the most important aspects of interior design, but only a few homeowners are aware of this! It can make a huge difference in the overall ambience and vibe of a room. 
Not only can good lighting brighten up a space, but it can also set the tone and make a room more comfortable and relaxing.
However, keep in mind that different rooms may require different levels of lighting. For example, bedrooms usually need relaxed and dim lighting, while functional areas like the study room and kitchen require sufficient lighting. 
The secret to having a well-lit room is natural lighting! It's free and can illuminate a room just as well as any other type of lighting. So keep these in mind when doing your interior decor planning.
5. Keep the style consistent
Objectively, a house with a coherent and consistent style is more pleasing to the eyes. 
We're not advising to copy the design and arrangement of one room and then applying it to the rest of the house, but rather to keep the aesthetics connected across the different rooms. 
For example, if you're going for a modern interior, make sure to use open and natural lighting, neutral wall colours and textures, as well as simple furniture across all rooms. 
Remember: consistency in style is the key to making a space more stylish and relaxing.
6. Get the core furniture first
Before anything else, get your hands on a good bed and invest in a high-quality sofa. These are staple pieces of furniture that every home needs. 
A high-quality bed and sofa may be pricey though, but they're durable and can last for years. 
When it comes to furniture placement, it's common for homeowners to arrange furniture based on how stores would set them up which may not always be possible given the different room structures. 
But starting with the most essential pieces of furniture allows you to arrange the room around it and also personalise it according to your preference. 
You don't always have to match each piece of furniture with the design and colour of the room perfectly. Instead, look for pieces that complement each other because that's the goal of arranging furniture.
7. Add personal touches
Finally, now that you've covered all the essentials, it's time to add personal touches and texture to your home to bring out your own personality. You'll never go wrong with adding paintings, vases, potted plants, or even rugs. 
Some homeowners tend to start with an area rug as it benefits a room in different ways! We'd say they're your best bet when it comes to adding personality and texture to your room. 
Not only can area rugs tie a space together, but they can protect floors from damage, brighten rooms, reduce indoor noise, keep kids and pets safe, and improve indoor air quality as well. 
Area rugs act as a natural filter that helps to trap allergens such as pollens and dust, preventing people from inhaling them while indoors. 
Most ready-made area rugs tend to share the same designs and styles, so if you're looking to add your personal touch, why not opt for bespoke rugs!
Opting for a custom-made rug makes it possible to express your personality through the materials, colours and designs, making your room more personal.
Decorating your own space
It can be nerve-wracking and exciting to think about decorating your own space as a first-time homeowner, but it's easier than you think! 
If you know the basics and essentials of interior design and decorating, you're already one step closer to turning an empty home into your personal space, all while keeping within your personal budget!
If you're interested in adding custom-made rugs to your home, don't hesitate to reach out! We've done many custom rugs in Singapore for both local homeowners and business owners, so we can accommodate a wide range of design preferences!