Rugs are like most other things that serve an aesthetic purpose – subject to design trends. 
This isn't to say that a quality rug with fine design will ever be truly "out of style", of course. It just means that some themes or styles may be more popular than others at specific periods.
Whether you're an interior design enthusiast, a new homeowner, or just someone looking to update home decor, we can take you through the latest rug trends. 
There's a lot to look forward to in the world of rugs in 2023, from the most popular area rugs to the latest living room carpet trends. We'll give you insight into the designs, colors, and materials that will be in vogue!

1. Natural and Sustainable Materials
The first rug trend we've seen more of this year is heightened use of natural and sustainable materials, as well as increased incorporation of earth tones in rug designs.
We've already noted a growing trend towards using materials such as jute, cotton, and wool in rug design. The nice thing about these is that they add warmth and comfort to your home while also making it look more organic.
And of course, we can't downplay the fact that they're environmentally friendly. Increased interest in sustainable and environmentally friendly living may even be a big part of why these rugs are so popular right now.
2. Neutral and Minimalist Styles
Neutral and minimalist styles are timeless and continue to trend in Singaporean home design.
These styles emphasise simplicity, clean lines, and a focus on natural materials. Besides, neutral colours like beige, grey, and white offer a great deal of design versatility as they can easily blend with a variety of other colors and patterns. 
They can even work well with a variety of interior design schemes, whether you prefer a modern-contemporary look or a more traditional one.
3. Abstract Patterns 
Abstract patterns continue to gain popularity in 2023. These types of rugs add visual interest to an area and can really make a space pop.
They're particularly popular in modern and contemporary spaces. They're also often used to add a touch of sophistication to a room.
Note that a particularly popular type of abstract design relies on geometric shapes (referred to as geometric abstraction). We're seeing it more and more in rugs too!
In any case, one of the best things about abstract style is the sheer range of options it presents. Shapes can be highly variable, and the same can be said of colours. 
At the moment, though, we've noticed a lot of designers opting for shades of blue, grey, and black, as well as red, yellow, and green. 
In any case, abstract designs can be anything from subtle and understated to bold and colourful, so it's fairly easy to personalise a space with them. They're also good for adding visual texture to a space, thanks to the shapes and patterns they use.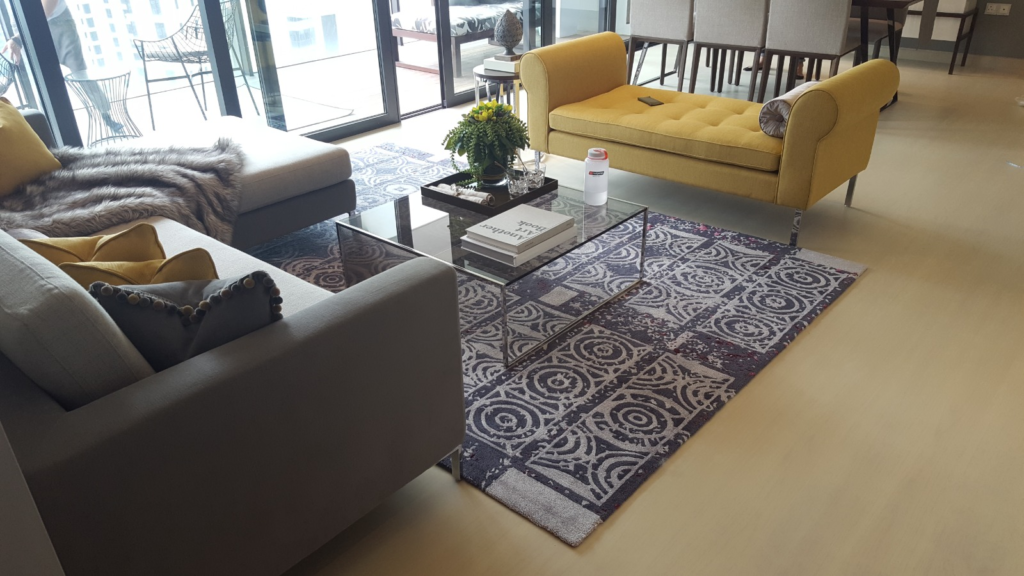 4. Traditional Motifs with a Modern Twist
This refers to designs that update classic or traditional elements by adding a modern or contemporary touch to them. The nice thing about these is that the classic/traditional part gives them a timeless quality while the modern one gives them trendy value at the same time.
Want an example? Just look at the latest twists on Moroccan rugs.
The classic Moroccan rug used simple geometric patterns and neutral colours. Modern versions now include bolder colours or updated, sometimes even semi-abstract patterns!
Note that the merging of the traditional with the modern doesn't need to happen on the rug itself if you want to try this trend, by the way. For example, you can pull it off too by adding a Moroccan rug to a room that otherwise uses modern interior decor.
Or you can add interest to a classically decorated room with eclectic and bohemian pieces, perhaps even natural-fibre rugs and fabrics.
5. Bold Colours and Intricate Patterns
If you want rug design ideas that are sure to express character and attract attention, this trend is probably for you. A lot of area rug enthusiasts have been using bolder, more vibrant colours lately!
The key here is that the rug should make a statement. There's a lot of emphasis today on being proud of and being oneself, and these rugs give you another outlet to express that.
By the way, this trend has also led to a resurgence in Bohemian styles. These use bold colours and intricate patterns, which means they fit right in here!
6. Bespoke rugs
Bespoke rugs are becoming increasingly popular in 2023. We noticed this ourselves, as the start of the year brought a tonne of client requests for bespoke rugs to us!
It's unsurprising when you consider how interested people are nowadays in getting items that meet their exact tastes. Custom-made to fit the specific needs and preferences of the buyer, bespoke rugs are perfect for that. 
In a world where personalisation and uniqueness are highly valued, bespoke rugs offer a way to create a truly customised living space that reflects your personality and style. 
What's more, they align with the growing demand for sustainable and eco-friendly design practices. These rugs aren't mass-produced and thus don't generate as much potential waste as your average rug, after all.
7. Bigger Rugs 
Large, oversized rugs are also becoming a popular trend in Singaporean homes. These rugs can help to create a sense of spaciousness in smaller rooms, while also adding a touch of luxury to larger ones.
If you want to try this particular trend, though, be careful. You can easily make a mistake when estimating the perfect "big rug" for your room or needs.
Try referring to our guide on choosing rug sizes. You can also talk to us and ask for recommendations from our larger rug collections – or combine two trends in one and ask us to design your very own bespoke large rug!
Get into one of these rug trends yourself!
That pretty much sums up the latest rug trends in Singapore. If you feel like getting into one of these rug trends yourself, contact us at The Rug Maker. 
Not only can we find the perfect rug for you in our existing collections but we can  also design and make your own custom rug if you want something unique. Plus, we'll even give you more decor tips along the way!
Reach out to us now and we can get started on finding your ideal rug!