Interested in decorating your home using the contemporary style?
If you're not quite sure how to go about it or have questions about how it differs from the modern style, this article is for you.
Today, we'll go over the basics of contemporary styling and how to achieve it for your own home.
Contemporary vs. Modern 
Let's begin here, because this is a question people ask very often. 
To be sure, they may look a little similar at first, especially as they have some things in common. The most notable is probably the use of minimalism. 
However, modern style actually takes that further than contemporary, where you still get leeway to play and add decoration to your space.
Modern style is stricter. It permits less decoration, evolution, and intrusion of elements from other styles.
A good way of understanding the difference is to note that contemporary style calls for decoration to be minimal without becoming clinical (which the modern style is).
There's also more room for colour (though still not a tonne) as opposed to the modern style, where neutrals absolutely dominate.
There's more space for comfort and warmth in contemporary styling, essentially, so it may also appear somewhat more welcoming than the modern.
How to Do Contemporary Decoration
Now that you know how contemporary decor differs from modern, we can go into the basics of actually realising it. 
To make things simple, we'll break down the basic rules into tips you can follow for specific areas of decor.
Let's begin with how the contemporary look should affect your selection of colours when decorating.
Colours
As mentioned earlier, there's an emphasis on neutral colours in contemporary style. You want to go with greys, whites, blacks, and similar shades.
That said, you're actually allowed to use brighter accenting colours too. 
In fact, that's part of the reason neutrals are encouraged: they provide a better foundation against which accents can pop.
The tip is to go easy on the accents, though, as the feel of a contemporary room is supposed to be serene and calm.
Going crazy with a dozen hues isn't going to lend itself well to that.
So, if you want to use something like coloured throw pillows on your couch, you may want to stick to two-toned options instead of rainbow-striped ones, as an example.
That doesn't mean you should be afraid to put up expressive and colourful artwork as decoration, by the way.
With a solid neutral base, you can actually be certain that such pieces will show very well.
Just avoid putting so many such pieces in a room that they begin to clutter it.
It wouldn't hurt either to try to use decorative pieces as your actual sources of accent colour, to keep spaces from getting too "visually busy".
Lighting 
Simple and functional lighting is generally favoured in the contemporary style. 
Skip the elaborate chandeliers and overly exotic light fixtures. Instead, continue the contemporary trend for clean lines and clear light. 
A lot of contemporary rooms are even designed specifically to depend on a lot of natural light in the daytime. 
That's related to why you see so few window treatments in contemporary design. Even when they do exist, they're usually fairly simple.
In any case, give a thought to purposeful lighting too in your decor. 
For instance, get studio lights or aim a light specifically at something you want to highlight, like artwork on a wall or a plant you're using as a centrepiece on a table.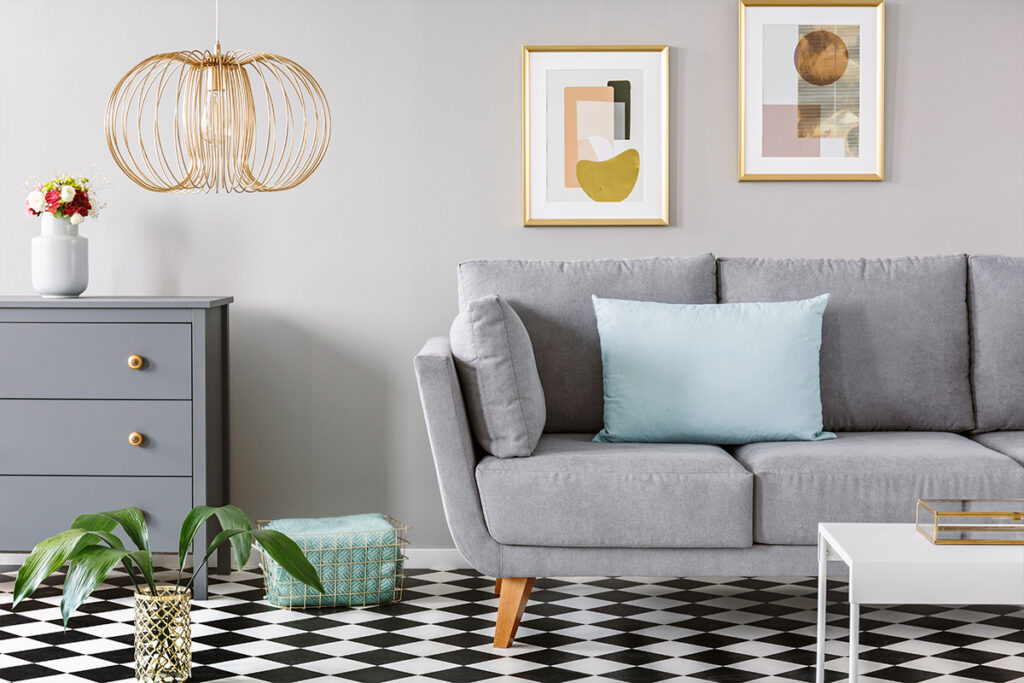 Patterns
Again, you want to go with clean lines, which is why the most-favoured patterns in contemporary style are geometric ones.
This is still a largely minimalist style, which means "less is more" is among its tenets. 
As such, you should steer clear of the overly ornate patterns save for individual or accent pieces that add spots of personality to a room.
It's common to see geometric area rugs in contemporary rooms, for instance, or throw pillows with geometric fabrics on them.
They add nice, understated interest to an already clean-looking room.
Trim 
Keep in mind that you're not aiming for flamboyance when using the contemporary style. 
This isn't meant to overwhelm viewers with magnificence or slap them in the face with opulence. 
Instead, this is about quiet glamour and elegance. That's why trim and detail in contemporary homes is clean and on the sparse side. 
You don't get frills and furbelows. Instead of tassels and bedskirts, you get a subtle richness evoked by things like luxurious materials.
Hence, avoid being ornate and go with understated luxury.
Pair a rich velvet sectional with a single-colour rug in a similarly neutral-coloured room, for example.
Go for quiet drama and let the textures and materials speak for themselves.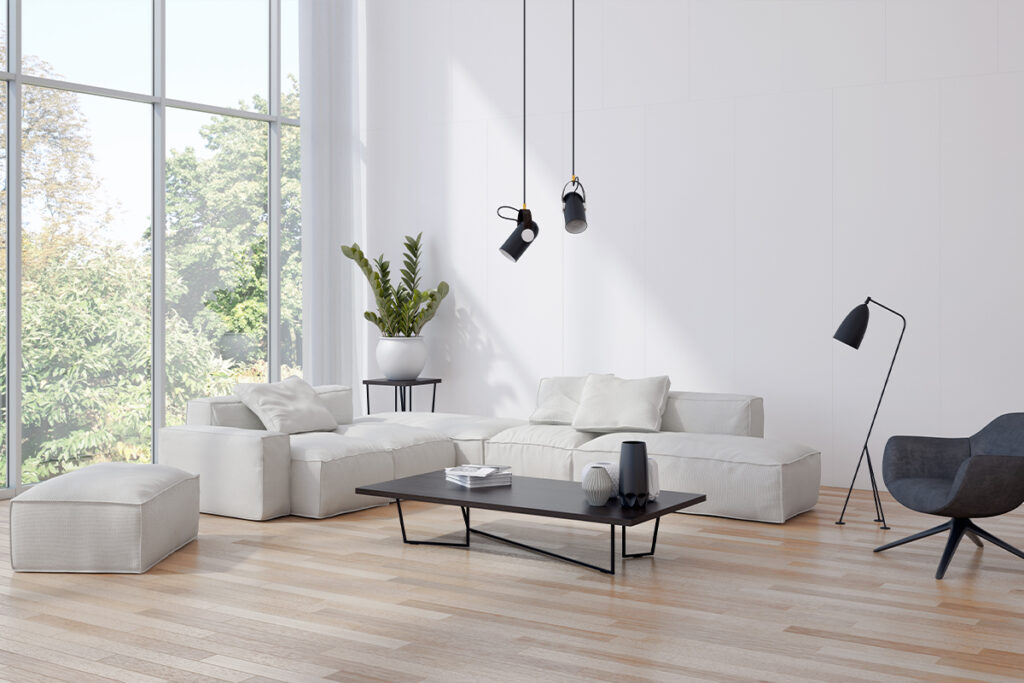 Space 
Finally, keep in mind that contemporary style tends towards open floor plans and a sense of open space. 
This helps keep lines clean and clear, as well as rooms airy and light.
If you find a need to differentiate spaces in such floor plans, you can always use furnishings like rugs.
They can even add a bit of drama to your decoration, depending on what rug you end up using.
For an extra touch of style, for example, you can look at getting custom living room rugs that all have a specific pattern or texture. 
Or even custom rugs in unique geometric shapes for specific rooms!
Want more tips for decorating your home?
That pretty much wraps up what you need to know about dabbling in the contemporary style for decor.
This is a fairly forgiving style, though, and certainly one that invites more play than its modern counterpart. 
So feel free to play around with your decor. Test how much colour you can add or what other decorations you can put in a room without destroying the effect!
And if you want more advice on contemporary decor or other styles, check out our other articles.
You can also get in touch with us if you want help coming up with a custom rug for your contemporary home, in particular.
We've done many custom rugs for clients using this particular style. We'll be happy to advise you on what your best options may be for your specific situation.