Many of us find ourselves in smaller living spaces nowadays thanks to a mix of factors, but fear not! Maximising small spaces doesn't always mean sacrificing comfort or style. 
In fact, this may even be an opportunity for creative decoration ideas that can turn your small home into a warm and welcoming place without making it look claustrophobic! 
In any case, if you're looking for ideas to decorate your home without making it look even smaller, we're here to help. Our recommendations today can show you how to maximise small spaces, making the most of your compact living quarters.  
Invest in Multi-Functional Furniture
This is one of our favourite contemporary home decor ideas for living rooms in particular. There are so many great storage options out there that also serve as beautiful pieces of décor for these spaces! 
What you want to do is choose furniture items that provide you with additional storage solutions, like storage ottomans. Other examples are items with hidden storage solutions, like coffee tables with built-in storage and under-bed drawers.
You can also try to go for furniture that offers multiple functions in another way. For example, sofa beds are obviously usable as both seating and sleeping solutions. There are also wall-mounted desks that can be both workspaces and dining tables.
This is one of those simple home decor ideas that can really let you make the most of both your space and money, as you cover multiple bases with just a few pieces of furniture.
Vertical Storage Solutions
We already mentioned wall-mounted desks, so it's a good time to point out that wall-mounted items can be perfect in a small home. Wall-mounted shelves and cabinets, for instance, are great at maximising limited space. 
Note that you can also create custom storage solutions with floating shelves. This gives you a stylish and functional display that lets you show off items without clutter.
Think about what you need when customising shelves for this purpose. If you require them, for instance, you can also incorporate hooks, pegboards, and magnetic strips for organisation and aesthetic purposes.
This can be especially useful when trying to figure out how to make your small living room cosy without sacrificing too much floor space in the process. Too many of us forget about vertical space!
Mirrors
Is it really a list of ideas for how to maximise small spaces if we don't recommend mirrors? Mirrors have long been a mainstay when it comes to making small spaces look bigger, as they give the illusion of space beyond what's actually available.
But beyond that, mirrors are practical too. They reflect light, for example, which lets you get away with using fewer lamps in a room (keeping it cooler for longer). 
There are a lot of ways you can use mirrors, of course. It depends on what you'd like: do you want a full mirror wall? Perhaps just one large framed mirror dominating a wall? Or several small ones arranged throughout a room?
Experiment and see what works for your space and tastes!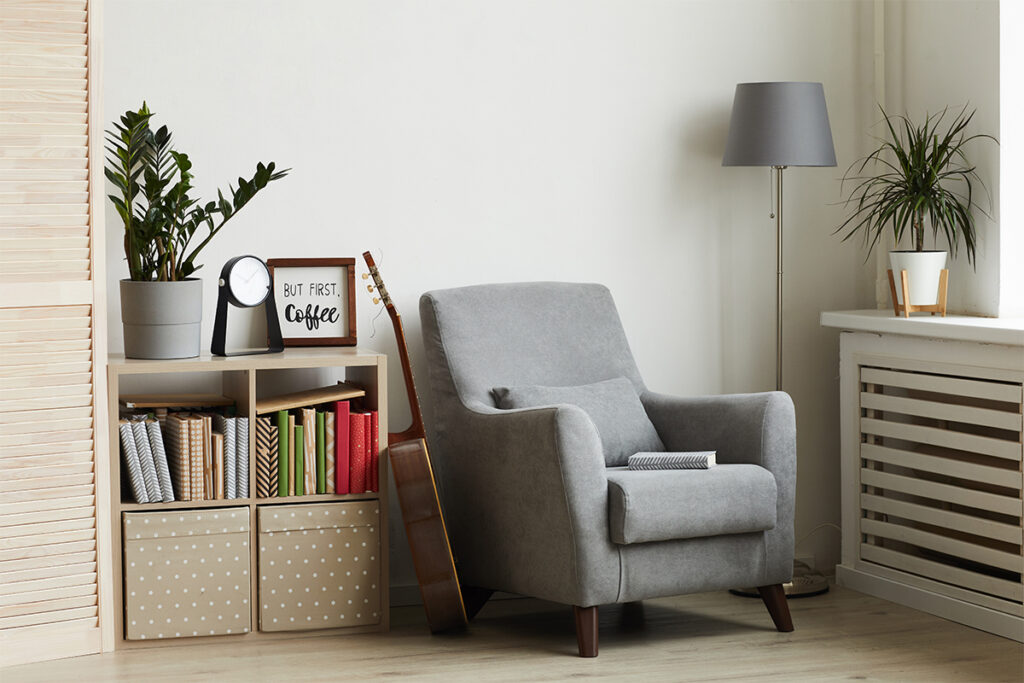 Nooks and Corners
Nooks and corners are often underused or overlooked areas in a small space… which is a shame since they can be so useful. 
Just think: by creatively using these spaces, you can add functional elements or decorative features without taking up precious square footage in the center of the room. You can turn them into storage spaces or even functional zones!
For example, you can use a corner by placing a small reading nook in it with a comfy chair, turning it into a cosy retreat instead of dead space. Whatever you want, you can usually tailor a corner to become that!
Take it as an opportunity to get creative with your decor and design, making your small space uniquely functional and stylish. You might be surprised by what you put together.
Large Rugs
Rugs play a huge part in making a house look cosy. Not only do they add texture, warmth, and colour to an area but they also help you zone spaces. 
By using rugs to delineate specific zones or areas of a room, you can divide the space effectively. By creating multiple neat zones in this way, you can trick the eye into seeing a space as larger than it really is (since it sees you "fitting" so much more in the area than a small space should allow). 
At the same time, the texture and warmth of the rug can help keep the area cosy and warm. Our advice here is to decorate with larger rugs in particular because it gives areas a sense of grandeur and the feeling of a larger room. 
Ultimately, the shape of a room and the furniture within it will dictate the best size rug to purchase, but always aim to go as big as you can!
Let's start making the most of your space today!
In sum, all is not lost if you have a small living space – there are so many great ways to make it look and feel bigger than it truly is! We've shown you some of the very best above.
With these creative home decor ideas and practical tips, you can transform your compact living space into a cosy and stylish oasis that reflects your personality and maximises every square foot. 
If you want to learn more, you can try reading our other articles. For instance, we have an article on making your bedroom cosier, the top home decor items, and how to give your living room a makeover.
Or you can get started on your own space improvement by getting a bespoke rug to implement the last tip we provided. If so, contact us. We can design and make your own custom rug for your first home… and even give you more decor tips along the way!