As housing and living expenses in Singapore continue to rise, living in modern small apartments is becoming more common, especially for young professionals. 
Living in a small apartment doesn't mean decorating will be out of the picture. Yes, working around limited spaces (especially on a tight budget) can be challenging, but it's not impossible!
While big-scale renovations may be out of the picture for now, there are still numerous budget-friendly ways to dress up your small apartment or rental space!
Today, we'll talk about interior decors for small apartments and how to decorate on a budget!

Use floating shelves
The best way to maximise a small apartment's limited space is to make use of floating shelves. 
Floating shelves are an excellent tool to use vertical space in a small room. These types of shelves provide storage space in areas where it wouldn't be possible to store household items, including corners and behind doors. 
Using them is an effective way of storing books, personal items, and other decorations without consuming floor space as standard cabinets normally would. Plus, they can make your space look cleaner and more organised, creating an illusion of a bigger room.
It's also easier to move around when less furniture and appliances are eating up your already limited floor space.
Make a statement
No matter how small a space is, you can make a statement by having the right eye when it comes to furniture and household items. 
A statement piece is something that catches someone's attention and intrigues them to explore a house further, regardless of its size. It can be any flashy furniture or interior decor that quickly catches the eye.
Some homeowners use sofas, centre tables, area rugs, or wall paintings as statement pieces, but it's up to you what you want to stand out in your small apartment. 
The right statement piece can be such a great conversation starter that your guests won't even notice how tiny your apartment is!
Take advantage of rugs
Area rugs are quite powerful when it comes to decorating small apartments. A well-placed area rug helps create designated spaces, making your apartment feel larger than it actually is. 
For example, placing one under your coffee table and sofa can make your living room area feel like its own unique space. 
Even if there are no walls or doors that separate the dining room from the kitchen, placing a rug in each area will make it feel like you're stepping into a different part of your home. 
In terms of colours, we suggest rugs with subtle patterns and on the lighter side of the colour spectrum. Lighter-coloured rugs do an excellent job of separating small spaces without making them look cluttered.
Add mirrors
A little well-known trick to make a small space feel larger and lighter is by strategically hanging mirrors. 
A well-positioned mirror expands the visual space of any small room instantly, helping to make your apartment feel more open and airy. It can give the illusion of a larger space without investing in high-cost interior design tricks. 
Since smaller apartments may tend to be low on natural light, adding mirrors can help reflect the small amount of light that enters the room, which can brighten up your space and make it appear wider.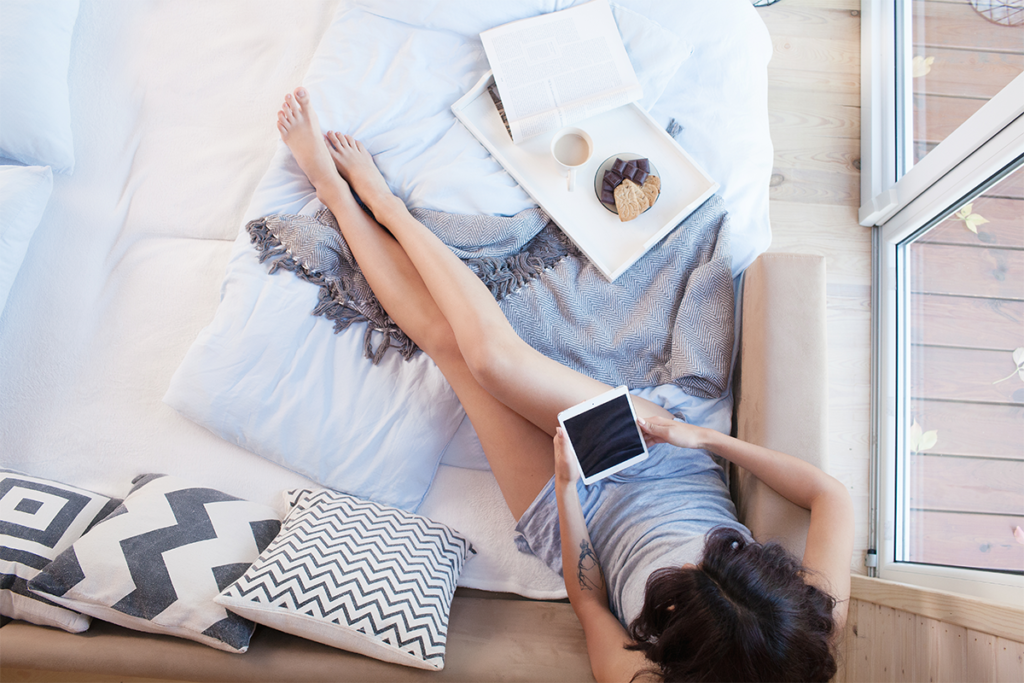 Use multipurpose furniture
Another way to decorate on a budget is to use multipurpose furniture! The more uses you can get out of each piece of furniture, the fewer furniture items you'll have filling up your limited space.
For example, a sofa that doubles as a bed can be functional and practical in a tight studio apartment. Why spend money on a full-size bed when the right convertible sofa can help you sleep soundly at night?
When it comes to tables, we recommend using the same one for eating, drinking coffee, and working at home – just learn how to clean it regularly!
Don't hesitate to try non-conventional furniture pieces if it means saving not only floor space but money as well!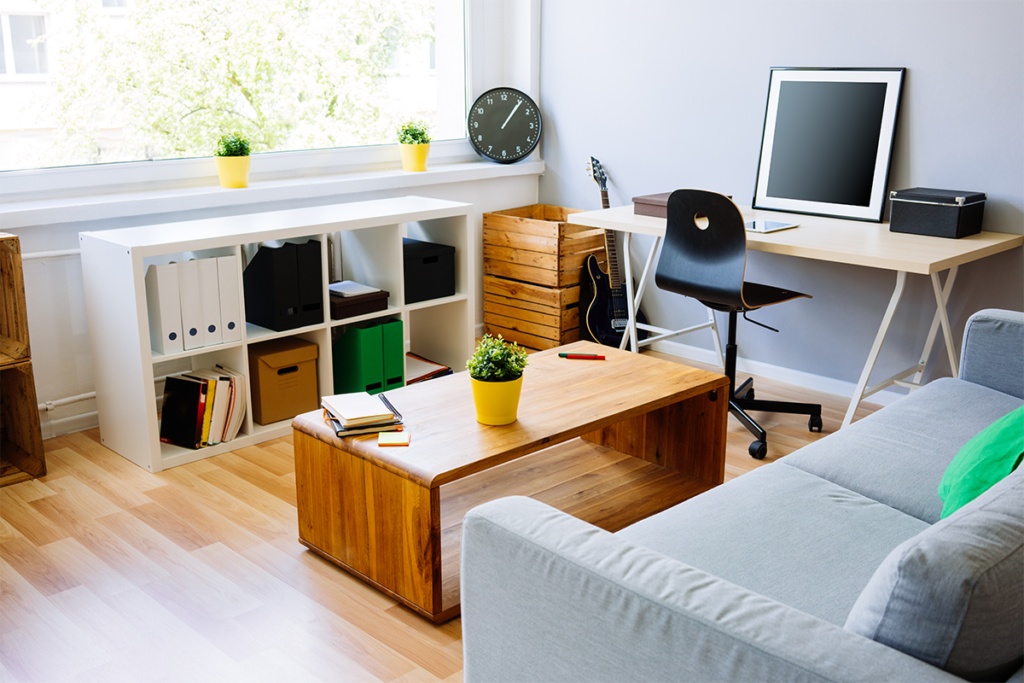 Avoid clutter
Small apartments can easily get cluttered and cramped, so make it a habit to clean regularly to avoid clutter build-up!
It's worth noting that avoiding clutter is more than cleaning and organising. Being clutter-free is about adopting a less-is-more mindset and asking yourself before making any purchase, whether it's big or small. 
Always remember that the more items are scattered around your small apartment, the less usable space you have available.
Designing with limited space and budget
Decorating a space always comes with expenses, but the costs don't have to break the bank, especially if you're working with a small space. 
The thing about decorating a small apartment is that it boils down to how you value and take advantage of the limited space that you have. You have to make the space work for you, instead of the other way around. 
If you're considering adding a rug to your apartment, feel free to get in touch with us! We can design and make a custom rug for small houses… and even give you more modern, small apartment design ideas along the way!