Are you looking for interior decor tips on how to beautify your kitchen? Well, you've come to the right place because we're here to share some kitchen decorating tips!
The kitchen is one of the most important areas in our home. It's where we prepare meals, spend time with family, and even entertain guests. 
Whether you have a large house or a small apartment, skimping on your kitchen's design shouldn't be an option! 
Here are some handy kitchen decor tips to help you create a space where you and your family (and visitors!) will enjoy.
Choose a new paint
Changing the wall colours is perhaps the quickest and cheapest way to brighten up your kitchen. It's so easy that you can do it on your own, without hiring a professional painter – which is one less cost deducted from the total bill!
Since cabinets and countertops are the most prominent elements in the kitchen, we recommend painting them first. 
A new paint job will instantly improve the aesthetics of your kitchen, giving it a new look that you can play around with through kitchenware and appliances. 
In terms of colours, you can never go wrong with neutral or light tones. These colours can give your kitchen a vibrant and lively atmosphere that will make you want to spend more time in the kitchen preparing meals!
Besides changing the mood, the right colours can make a narrow kitchen appear wider, so take your time in mixing and matching different colours!
Pay attention to the background
As the most visible part of the kitchen, the backsplash is capable of giving the space a new character and changing its overall vibe. 
Changing the interior decors of our kitchen can easily get expensive, so we might as well spend our money where it matters, like the backsplash! Luckily, whatever your preferred aesthetic is, there are tiles to help you achieve it. 
Porcelain, glass, and marble tiles will give your kitchen a modern, sophisticated look while granite and limestone tiles will make it feel more homey. 
Most of these are easy to maintain, but expect that the expenses will be heavy for your pockets. The results will be more than worth it, though!
Upgrade your hardware
While this may seem like only a minor aspect of a kitchen, hardware is actually seen as the jewellery of your kitchen.
Let's be honest: the majority of kitchens we've seen looked a bit dated and ancient, which isn't a bad thing! It's what makes them feel homey and relaxing. 
However, it's hard to beat the atmosphere of a modern kitchen! A simple kitchen hardware upgrade can elevate the experience of preparing meals for family and friends. 
Through sleek and smooth hardware, a kitchen can look cleaner and more sophisticated, which leaves a lasting impression on your guests. 
Friendly reminder: sourcing new kitchen hardware isn't necessarily a costly venture because there are good deals everywhere!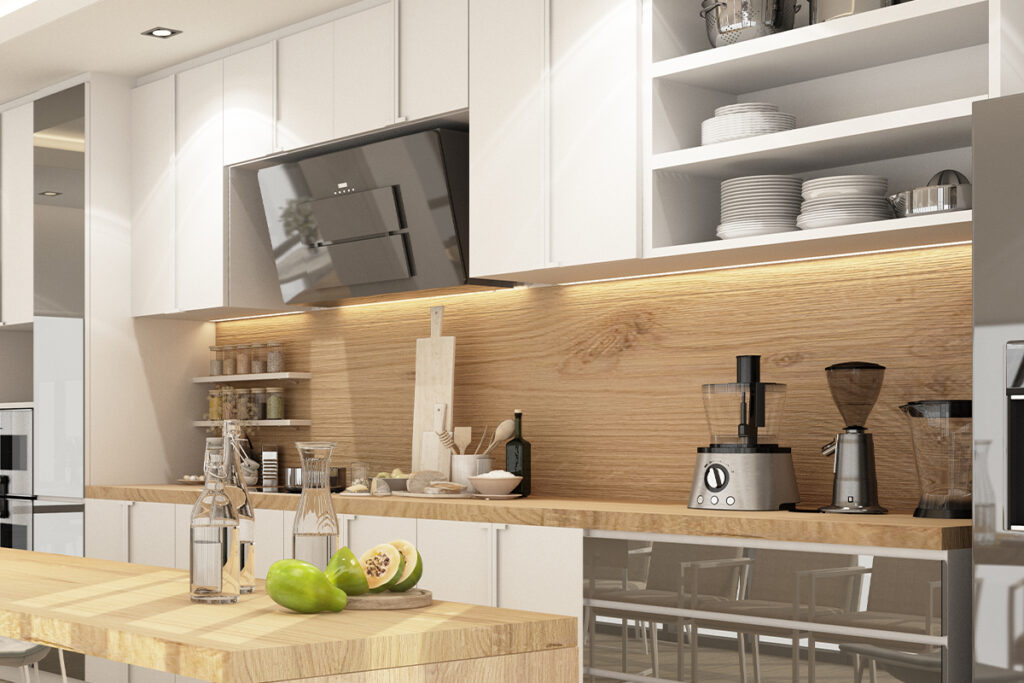 Get your hands on new appliances
While a regular thermos would do the job, why not breathe life into your kitchen and show your personality through new appliances?
If you have a flexible budget, getting new appliances would modernise your kitchen in ways that paint, tiles, and hardware couldn't. 
Appliances made from stainless steel are the go-to options, and we understand why! Not only are they durable and practical, but they also add a bit of flair to any kitchen. 
There are even colourful appliances for those who are more adventurous and don't want a traditional-looking kitchen! Basically, you have a range of options when it comes to appliances that will match whatever design you're going for. 
Having a huge family is another reason to add new appliances.  A second microwave oven and a mini-refrigerator can spread out the kitchen workload and make meal preparations faster (and keep little snackers from bugging you!)
Add a kitchen runner
We totally understand if you're on the fence about adding a rug to your kitchen! It's scary to spend huge bucks on something beautiful that will inevitably see food spills and crumbs. 
Nevertheless, an area rug can add warmth, colour, and some much-needed contrast to the space. It will make your kitchen look more polished too!
When in doubt, go with a vintage rug because it can hide stains and warm up any space! 
Another thing that area rugs can do is improve indoor air quality. It serves as a filter that traps all sorts of airborne pollutants such as fungus, allergens, asphalt, pollens, dust mites, and of course, dirt.
Bringing your kitchen to life
The best thing about decorating your kitchen is having endless interior decor options and inspirations limited only by your imagination.
While you can always search for interior design inspiration, what matters at the end of the day is feeling comfortable and satisfied in your own space. 
If you're interested in decorating your kitchen or home with a custom rug, don't hesitate to reach out to us! We can design one for your space and even give you more tips on how to beautify your kitchen along the way!