Finding the correct rug size is a crucial step when decorating any room. The right rug can pull furniture pieces together, add warmth to a room, or even make it seem airier and more spacious. 
Meanwhile, picking a rug that's either too big or too small for a room can throw its vibe off. 
You'll come across several rug sizes in your pursuit of the perfect rug, so it's important to know which one will complement your space and its existing furniture pieces and interior decor. 
As a general rule of thumb, pick a rug that can either contain the major pieces of your room or function as a buffer between built-ins.
To help you in this process, we've put together a guide on choosing the right carpet size for your home!
Choosing the right rug shape
It's good to decide on the shape of the rug first before diving into the different rug sizes. 
Rugs come in a range of shapes. Here are some that you need to know: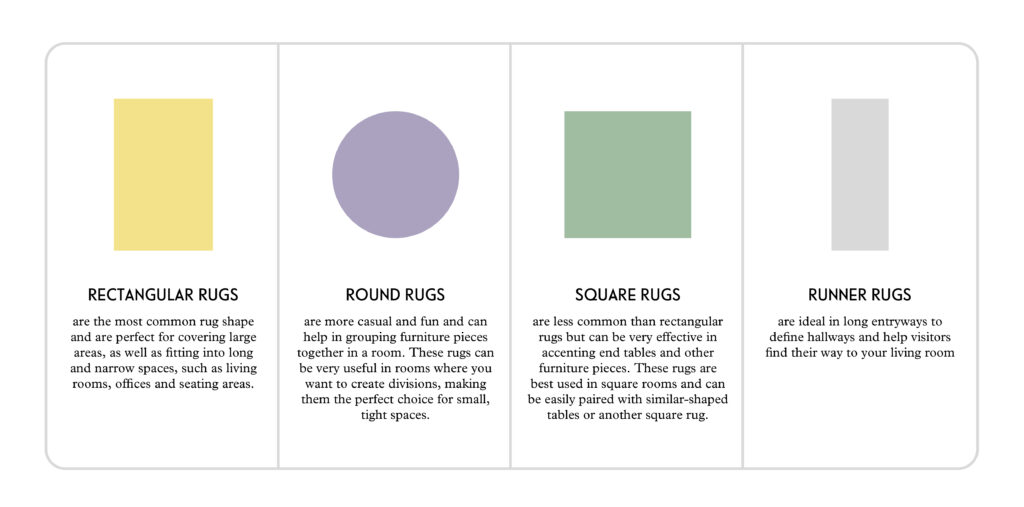 Rectangular rugs are the most common rug shape and are perfect for covering large areas, as well as fitting into long and narrow spaces, such as living rooms, offices and seating areas.
Round rugs are more casual and fun and can help in grouping furniture pieces together in a room. These rugs can be very useful in rooms where you want to create divisions, making them the perfect choice for small, tight spaces. 
Square rugs are less common than rectangular rugs but can be very effective in accenting end tables and other furniture pieces. These rugs are best used in square rooms and can be easily paired with similar-shaped tables or another square rug.
Lastly, runner rugs are ideal in long entryways to define hallways and help visitors find their way to your living room.
Choosing the right rug size
Finding a rug that perfectly fits your space is essential. Generally, though, it's better to go a size larger as it's easier to work around a bigger rug than a smaller one. 
There should also be a visible floor gap between the rug and the wall. Which rug size to go for, depends on the purpose of the room and what you hope to achieve with your area rug.
One of the common mistakes of homeowners is thinking that a standard-size rug will work in any and every room. Remember that rugs are never a one-size-fits-all solution and that each room has its own considerations!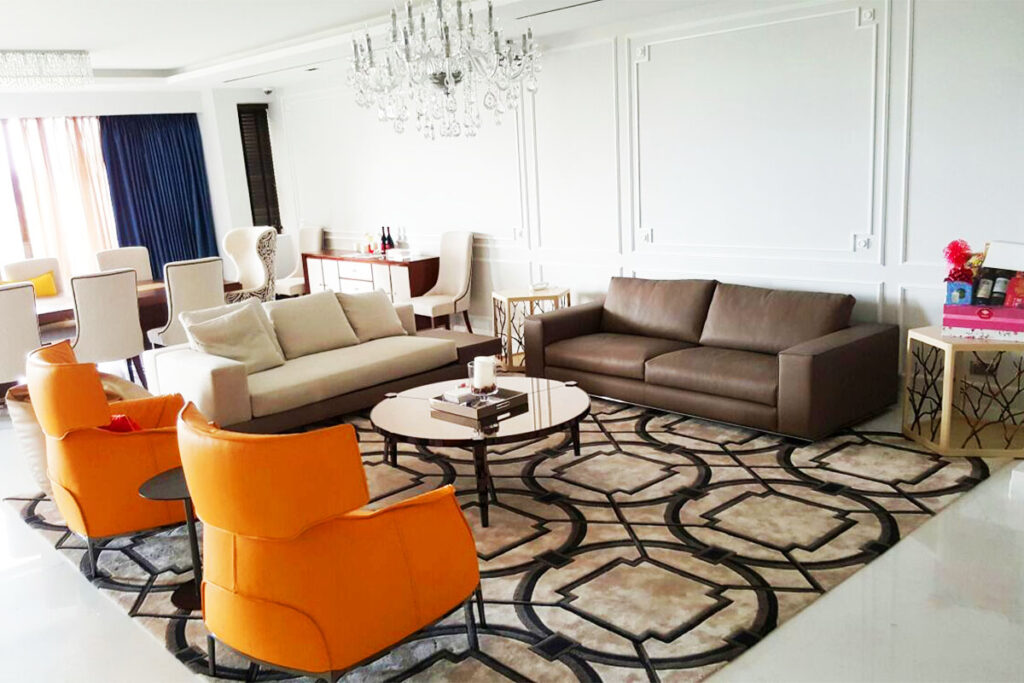 Living room
When looking for a living room rug, consider its layout and how the existing furniture pieces are laid out.
If it's an open floor plan, the rug should help define the space and improve the acoustics. Although the couch may be the centrepiece of your living room, the rug is what pulls it all together.
Any shape could work, but the dimensions of the rug must allow it to cover the main seating area. Make sure that at least its front legs and the front legs of the neighbouring armchairs are on the rug.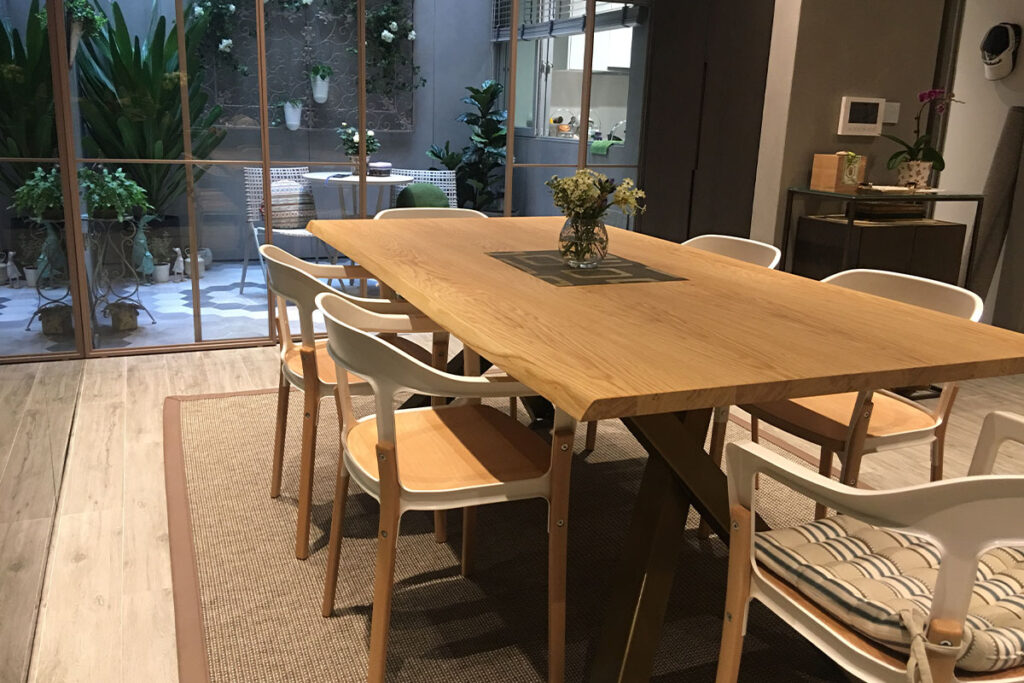 Dining room
A good rule of thumb when shopping for a dining room rug is to select a rug that's four feet larger than your dining table.
Like a living room rug, it should be large enough for all dining chairs to sit entirely on the rug, even when pulled out and without getting tripped by it.
The rug's shape should reflect the furniture in the room too. For example, if you have a round table, pair them with a round rug, a rectangle rug with a rectangle table, and so on.
Bedroom
In bedrooms, large area rugs are usually placed underneath the bed, where they serve as the room's focal point.
On the other hand, a smaller area rug would be considered a great accent piece that gives your feet something comfortable to land on. 
Because of these, the size of your bedroom rug will depend on the size of your bed, the other furniture in your room, and how far under the bed you want to position it.
Before buying, decide how you want the rug arranged. Bedroom rugs are either pushed against the wall and under the nightstands or bed or positioned under the bed and stopped about a few metres before the nightstands.
Decorating your space with area rugs
Rugs are a powerful piece of interior decor that can completely transform any room through their colours and textures. 
Choosing the right carpet size for your home doesn't come easy, but we hope these tips will help you find the perfect rug that will breathe more life into your room!
If you're looking to spruce up your home or redecorate your space with an area rug, we offer customised and bespoke rugs. We can even offer you more home decor tips along the way too!