Thinking of (re)decorating your home on your own and looking for interior design ideas? 
Well, you've come to the right place! We're here to break down the most popular interior design styles you've likely heard of but have no idea what they mean. 
There are all sorts of interior design styles. To know what you might like, you first have to familiarise yourself with some of the popular ones, including those you may commonly see on television and in movies. 
Learning the different interior design styles will help you save time and money, and ultimately avoid getting frustrated. 
Below is our short yet detailed guide on what you need to know about each interior design style!
1.Mid-century Modern
Mid-century modern is characterised by natural shapes, refined lines, minimalist silhouettes, and gentle curves. 
Originating back to the mid-1900s, mid-century modern is all about lines and shapes in their most bare and simplest form, combining and making them work for your space. 
It's usually marked by a sense of simplicity in every element, including the furniture pieces, so it does away with loud and colourful furnishings. 
A great starting point when following a mid-century modern design is a simple colour palette and common materials like metal, glass, and steel. It doesn't involve a lot of clutter and accessories but depends on the capacity of lines and shapes to bring life to your home. 
Other mid-century modern elements include asymmetrical designs, wooden tapered legs, medium-toned woods, and warm-coloured curtains.
2. Industrial
Industrial design underlines the excessive use of exposed metals, concrete, dark wood, and bricks, which basically sums up what it's about. 
There's a sense of interruption and rawness with industrial design due to the sight of bricks and metals. Think of an old warehouse or industrial factory with high ceilings, old timber, and dangling metal fixtures. 
Industrial design tends to have a dark and mature aesthetic since it shows off raw and hard materials. It's an acquired taste, so it might take some time to grow on you. 
Another key feature of industrial interiors is the lack of functional furniture, so there's more space to move around. That doesn't mean that industrial interiors are devoid of life, though. 
Add one or two pieces of art to bring in a splash of colour and contrast to the neutral and dark colour theme.
3. Traditional 
Rooted in European sensibilities, traditional interior decors use an abundance of classic, timeless pieces from the 18th to 19th century. 
It often features antique furniture, intricate woodwork, rich colour palettes, and curved lines to symbolise the splendour of the time it's trying to replicate. 
Furnishings are fancier and have more ornate details, which include tufted upholstery, wingback chairs, and crystal chandeliers. 
Other things you'll find in traditional homes are classic artworks and luxurious fabrics.
4. Contemporary
Modern and contemporary often get interchanged. 
Contemporary differs from modern as it incorporates anything popular at any given time. Interior designers often describe it as luxury modern because it often features clean and uncomplicated lines and shapes. 
Another primary difference is that contemporary design rarely adheres to a single particular style. It may include curved lines and soft furnishings, while the modern design may not. 
5. Bohemian
The bohemian style captures the carefree and experimental essence of its namesake lifestyle through the excessive use of vibrant colours and mismatched elements.
It's all about mixing and matching different colours, textures, and patterns, even if they don't make sense in theory. 
A bohemian style is achieved through thinking outside the box, not following interior design rules and allowing your creativity to fly. 
Instead of hanging artworks, macramé or tapestries are the preferred options. The furniture and interior decors you choose are a mix of vintage pieces and treasures you've collected over the years. 
In a bohemian home, nothing matches perfectly and that's what makes it perfect.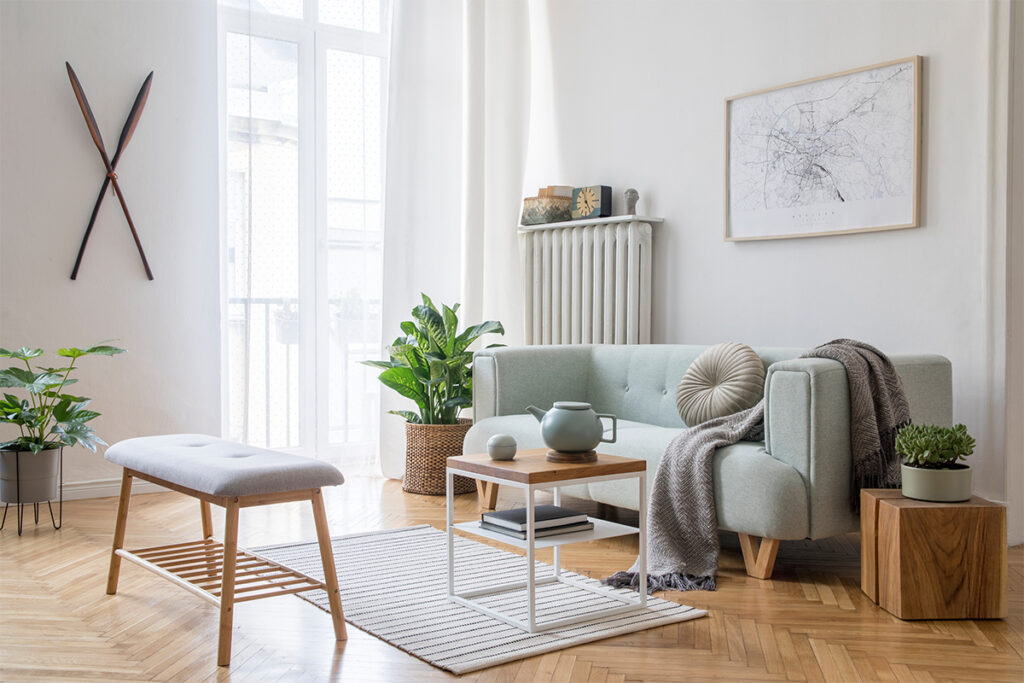 6. Scandinavian
Scandinavian interior design references the simple life of people in Nordic countries. 
Although it's bare and understated, the Scandinavian design manages to incorporate functionality and comfort. Since Nordic people live in dark winters and cold temperatures, their homes are designed to be a place of utmost comfort and function. 
Common features of Scandinavian design include all-white colour palettes, wide plank flooring, bright plastics, and form-pressed wood. Walls are typically painted bright white to reflect as much light as possible while furnishings are easy to use and functional. 
The odd pop of colour is not uncommon, usually coming from artworks, throws, and accent pieces.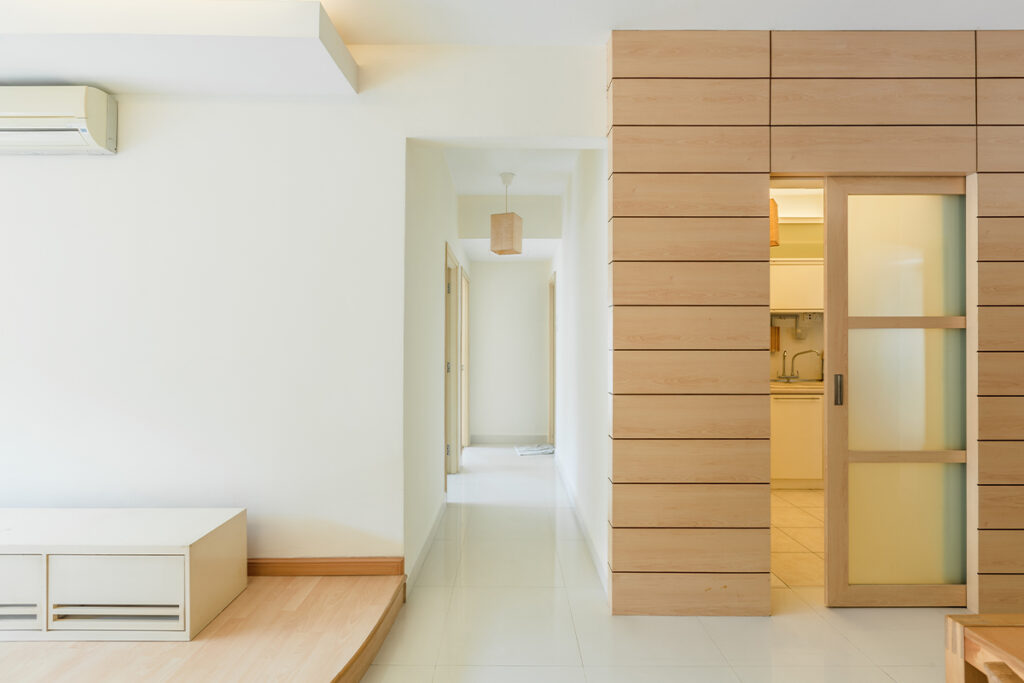 7. Minimalism
Known for clean lines and uncomplicated finishes, minimalism values negative spaces as much as positive spaces. It's ultimately defined by a sense of functionality and ultra-clean lines. 
Colour palettes are muted and dry while furnishings are simple yet functional. In terms of accessories, it's kept consciously sparse and multifunctional pieces take precedence over ornamental designs.
Minimalism keeps everything simple and guarantees that every object in the room has a place and a specific purpose.
In minimalist homes, you'll often find built-in storage, bare white walls, and lots of floor space to walk around.
8. Rustic
The rustic style uses weathered woods and warm tones to make it seem like you're living with nature. It's about making your home feel like a barn or cabin even if you're living in a busy business district.
Reclaimed wood is often used to achieve the feeling of being close to nature. You'll find it being used for barn doors, coffee tables, or even a headboard for the bed.
When it comes to furniture pieces, it places importance on repurposing old pieces and making them functional again over spending money on ready-made furnishings.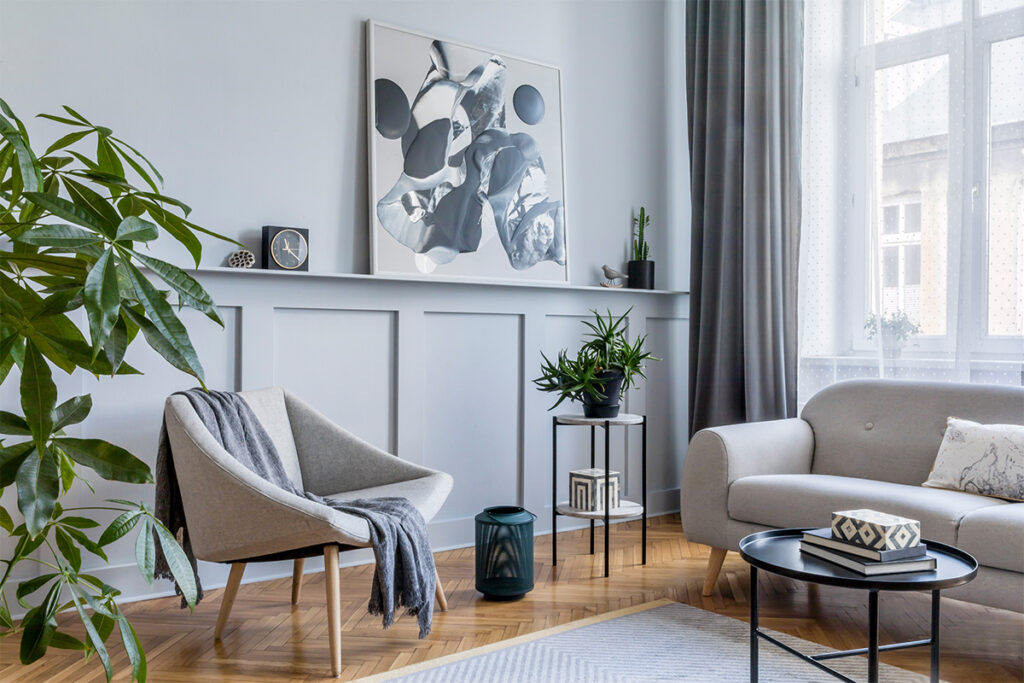 Unlocking interior design styles
The first step in decorating your space is getting inspired by the different interior design ideas that you can follow.
Familiarising yourself with different interior design styles and ideas lays down the path of the journey of decorating your space. Without learning the basics, you may be off to a rocky start.
If you're considering adding a rug to your space, feel free to get in touch with us! We can design and make a custom rug for all types of homes!