Even though babies may be too young to care about how their nurseries are decorated, it's never too early to expose them to amazing interior design. 
After all, the nursery serves as your little one's first home. It's the space that welcomes them into the house and witnesses them grow up and reach developmental milestones. 
It's where your baby will learn how to crawl, stand, walk, speak, and even feed themselves, so its atmosphere should be conducive, fun, inviting, and most of all, comfortable!
One of the most exciting things about being a new parent is the chance to get your creative juices flowing by designing your baby's nursery! There's nothing like picking the theme, wall colour, and furniture that goes into your baby's room.
If you don't know how to start decorating, don't worry. We're here to help! 
Whatever your preferences are, these nursery decor ideas will help you create a wonderful space for your little bundle of joy.
1. Choose durable furniture pieces
When canvassing tables, armchairs, dressers, and cribs for the nursery, go with furniture pieces that can withstand the test of time. 
It's always a great idea to consider how long a piece of furniture can last when decorating a nursery. As your baby grows up, a few aspects of the room will have to be changed to make it more age-appropriate, such as the theme and a few nursery essentials. 
With durable furniture pieces, repurposing comes easy!  A classic toddler dresser can easily be repainted when the time comes that your little one has a favourite colour.
Besides dressers, cribs and changing tables can be reused when you have another baby in the future. 
We'd say it's a practical way of picking nursery room decor, especially if you have plans to grow your family.
2. Don't forget practical storage pieces
You'll soon realise that having a newborn comes with more necessities than expected, including bibs, bottles, diapers, mittens, wipes, swaddles, diaper bags, and the list goes on!
To keep the nursery room clean, you need to have decent storage space for them. The problem is, a single dresser may not necessarily be enough to store all these baby essentials. 
What you need are (cute) storage boxes to keep everything organised!
Storage boxes come in a variety of sizes that can hold any baby item that needs to be stored, whether it's a small stuffed toy or a massive changing pad. 
You don't have to worry about these boxes making the nursery room look messy, choose ones that you can conveniently tuck in the corner, under the dresser, or beside the crib.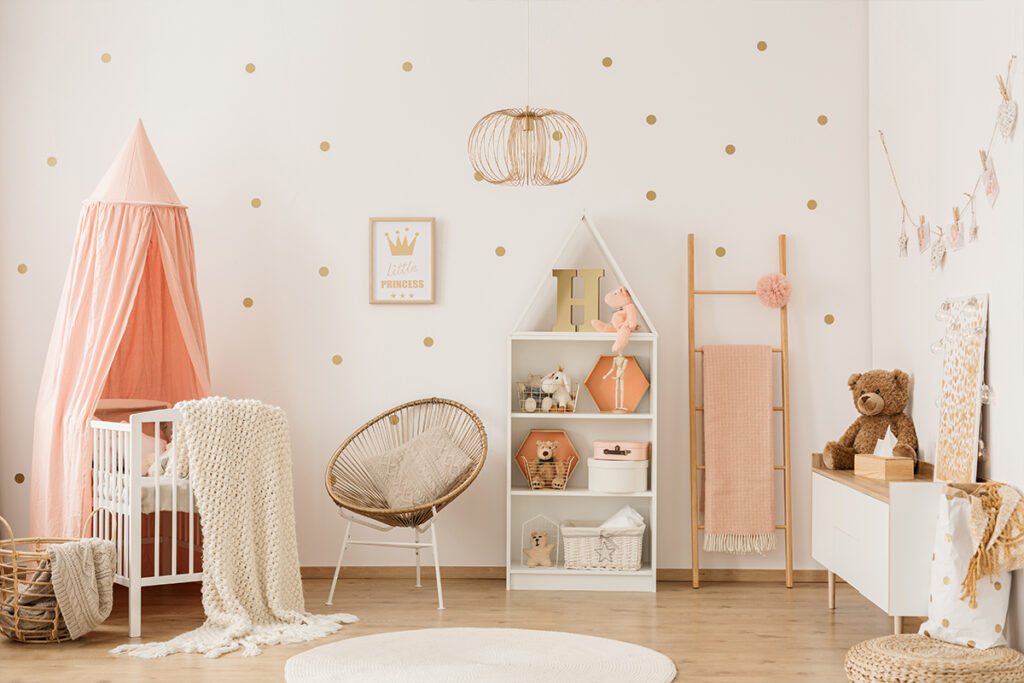 3. Plan the style carefully
Your little one may not notice the style and arrangement of the nursery until they're about 4 or 5 years old. 
That being said, some parents think that a nursery's interior design doesn't matter, but it actually does!
By carefully planning the colours, shapes, textures, symbols, and images that go into the nursery's interior design, you're helping bring out the best in your baby. These design elements have an effect on a child's cognitive development. 
It can be quite a challenge to consider these design aspects while decorating the nursery, but keeping everything consistent with the rest of the house helps! 
If your house has a contemporary look, work your way from there. Try to look for nursery room decors that give off the same vibe. 
It's also your chance to introduce your baby to your style and personality at a young age!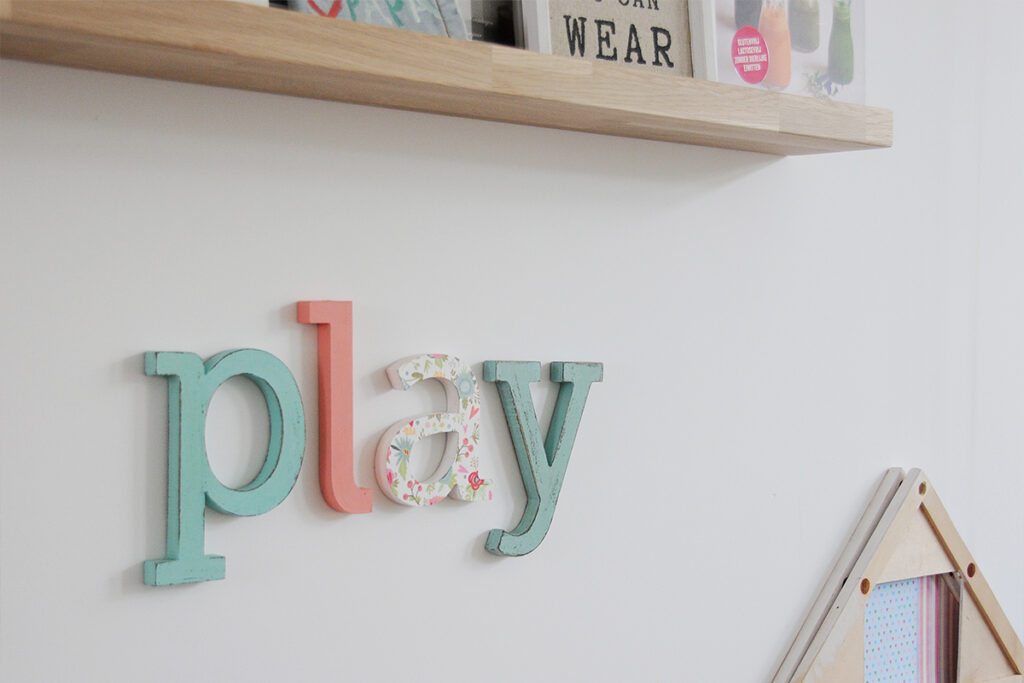 4. Add some personal touches
The nursery shouldn't only reflect your style but your little one's as well!
After all, the nursery is your baby's personal room, so don't forget to add some personal touches that mirror their personality and behaviour. 
You can start by putting up some letter decors on the wall and arranging them to say your baby's name or even birthday.
Other parents like decorating nurseries with special toys that have been handed down through generations as an example. 
Another way to personalise a nursery is by adding paintings, indoor plants, and even rugs. 
Some parents tend to overlook how beneficial rugs are to a nursery, though. 
Aside from tying the entire room together, rugs can act as a natural filter that cleans the air inside the nursery, making sure your baby doesn't inhale pollen and dust. 
You can even go further with bespoke rugs if you don't like the designs of ready-made area rugs!
5. Go for a gender-neutral theme
Picking gender-neutral themes can make the task of designing and decorating a nursery a whole lot easier.
The days of associating specific colours with boys and girls are long past us, so don't get fixated on choosing a theme and furniture pieces according to your baby's gender. 
Gender-neutral nurseries come with advantages too. 
First, it allows your baby to grow up in an environment that allows them to have an open mind!
Second, you can use the same nursery when you have another baby in the future. Isn't this more practical?
If we're not stuck on correlating certain colours and designs with genders, decorating a nursery will be no trouble.
6. Prioritise your baby's safety
When purchasing baby essentials, you have to make sure that everything is safe to be used inside a nursery and by your little one. 
For example, the baby crib should be deep enough and its bars should be at an appropriate distance apart to prevent your baby from being able to climb out. 
You'd also want to place the crib away from fixtures such as lamps, wall decorations, and anything else that may accidentally drop into the crib while your baby is sleeping.
Lastly, try to minimise clutter by not over-decorating the nursery. It'll be easier to clean and organise when there aren't lots of items that are in your way.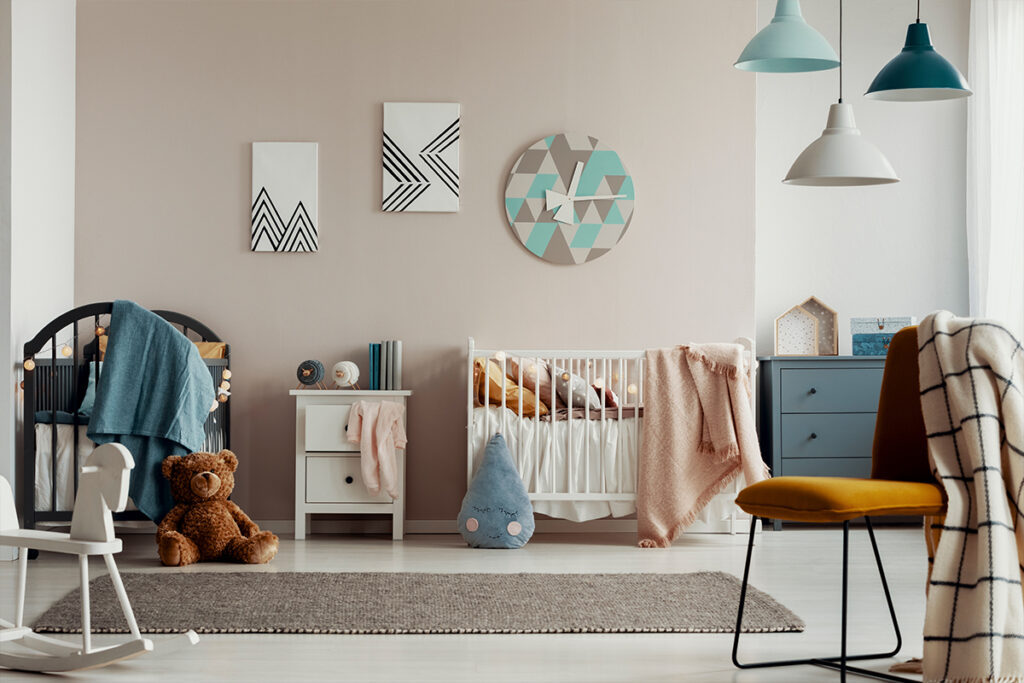 Designing a safe space for your baby
Decorating a nursery may seem like a daunting task for parents, but that doesn't have to be the case! 
There are ways to lessen the stress of it, though, such as picking lasting furniture pieces, being open to different themes, and even taking inspiration from your own house decor!
If you're considering adding a bespoke rug to your baby's nursery, feel free to get in touch with us! We can design and make a custom rug for your baby's room… and even give you more nursery decor ideas along the way!